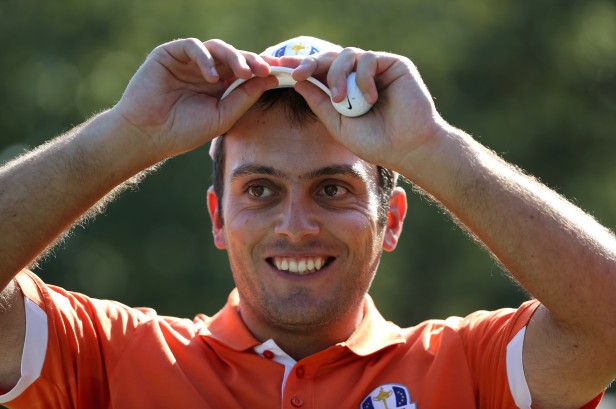 Francesco Molinari and the honour of taking Italian style to Medinah
In an exclusive interview, Francesco Molinari talks about his personal style, his passion for good food, and his dreams for the future...
Francesco, Italians are renowned for their sense of style. Do you like to dress well? Is it important to you?

"Yes, I do. I always like the art of dressing well. Sometimes wearing a nice suit and shoes makes you feel better. Obviously being a sportsman, most of the time we are wearing golfing clothes or casual clothes, but I like to dress properly. Being Italian there is an influence on my style: I like to be both fashionable and classic. My style is very personal. I have some classic things: I like to wear smart suits, and then I have more fashionable things. The nice thing is that I can try different looks."

The European Team will be dressed by Canali for their formal wardrobe at the Ryder Cup: does it make you proud to be wearing an Italian label?

"I am very, very proud that I am the only Italian on the team, and I am taking a little bit of Italy with me with the clothes we are wearing. The clothes we had from Canali in wales were great and extremely elegant. Everyone on the team really liked the wardrobe they supplied, working with Colin (Montgomerie). I'm sure it will be the same this year, that everyone will be delighted with the garments, as Canali is a very elegant brand. It makes me very proud to see the Canali clothing on our team: the ceremony uniform and the other formal clothes are a big part of bonding together, to make us feel like we are not just twelve individuals, we are a team. It is as important as the playing clothes. On a big stage like the Ryder Cup, everything has to be right. Everything – when we play and during the ceremonies, we have to feel good and stand proud as a team. For the whole week, we are being watched by the whole world, so it is important to have clothes that make us feel comfortable and stylish."

Italians are also known for their cuisine... are you a foodie? Do you like to cook?

"I like food as much as anyone - good food especially. Unfortunately being a sportsman, many things in the Italian diet are not good for everyday. Pizza and pasta have to remain for special occasions. I like to cook for my family: I learned from my grandmother and my mother when I was growing up and I like to experiment now, personalizing the food I cook to my taste. I like to cook duck and meat dishes as well as traditional Italian food. Coming from Piedmont, it is a big wine region… I like my wines, but I don't drink too much. Sometimes with a nice pasta dish, I enjoy a glass of red wine."

How do you relax in your spare time, away from the golf course?

"I have a 19 month old son, so he takes up all my time these days. I used to be a big football fan, but now I don't have the time to go to matches. I follow the results for Inter and West Ham, but with all the travel I do, I like to focus on my family at home. That keeps me busy. My wife, Valentina, likes watching movies, so we go to the cinema when we can, and we watch films together at home."

What about music?

"I love music. I like British bands like Coldplay, Muse and Blur. I have a playlist on my iPhone that I change regularly and I listen to that before I play a round. I think it helps to get ready to go out on the course: it is a good way to get the focus at the right level."

And any other interests?

I really like photography, but I do not have the time to focus on it anymore. I have always been interested and curious about it, but I had to drop it to pursue my golf career and enjoy my family life. I think if I hadn't been a professional golfer, I would have tried to pursue photography.

Who do you admire?

I am a big fan of Valentino Rossi, the Italian motorcycle racer. He has had such a long career and has persevered when things are down. He is my hero. And obviously Constantino Rocca was a true inspiration for me growing up, learning to play golf in Italy.

How do you feel about being that inspiration, the role model for young Italian golfers now?

Golf in Italy has changed a lot over the last few years. Constantino was the hero for me and Edoardo as young boys. Now we find ourselves in the spotlight with Matteo Manassero, and it's great that there are more of us and that it is a cool sport for young people to enjoy. It used to be for the rich elite, but now it is more accessible and something more people want to do.

How do you and Edoardo deal with being on tour together, as brothers?

We have grown up together playing golf the whole time, more or less at the same level, so we have always competed against each other. It is what we do. We always try to beat each other, whether we are at home, or on the Tour. But we are respectful of each other, and supportive to each other. If the coaches are not around, we try to help each other. We know the other's game so well, so we try to be there for the other one. It was a lot of fun for us to play together as partners two years ago at Celtic Manor, and it is a shame Edoardo will be watching this one at home on TV, but hopefully we can play together again at another Ryder Cup sometime in the future.

What are your dreams and ambitions?

I hope to play as many Ryder Cups as possible, and to be on the winning team. For every golfer, winning a Major is a huge dream and definitely a goal of mine that I am focusing on. Outside golf, I am lucky to have a lovely, healthy family, and I would like to give my son every chance he needs to be happy and successful in life. We'll see what he likes to do. I hope he has the chance to make his passion his job like I have: whether it's music, or art or sport, or whatever.